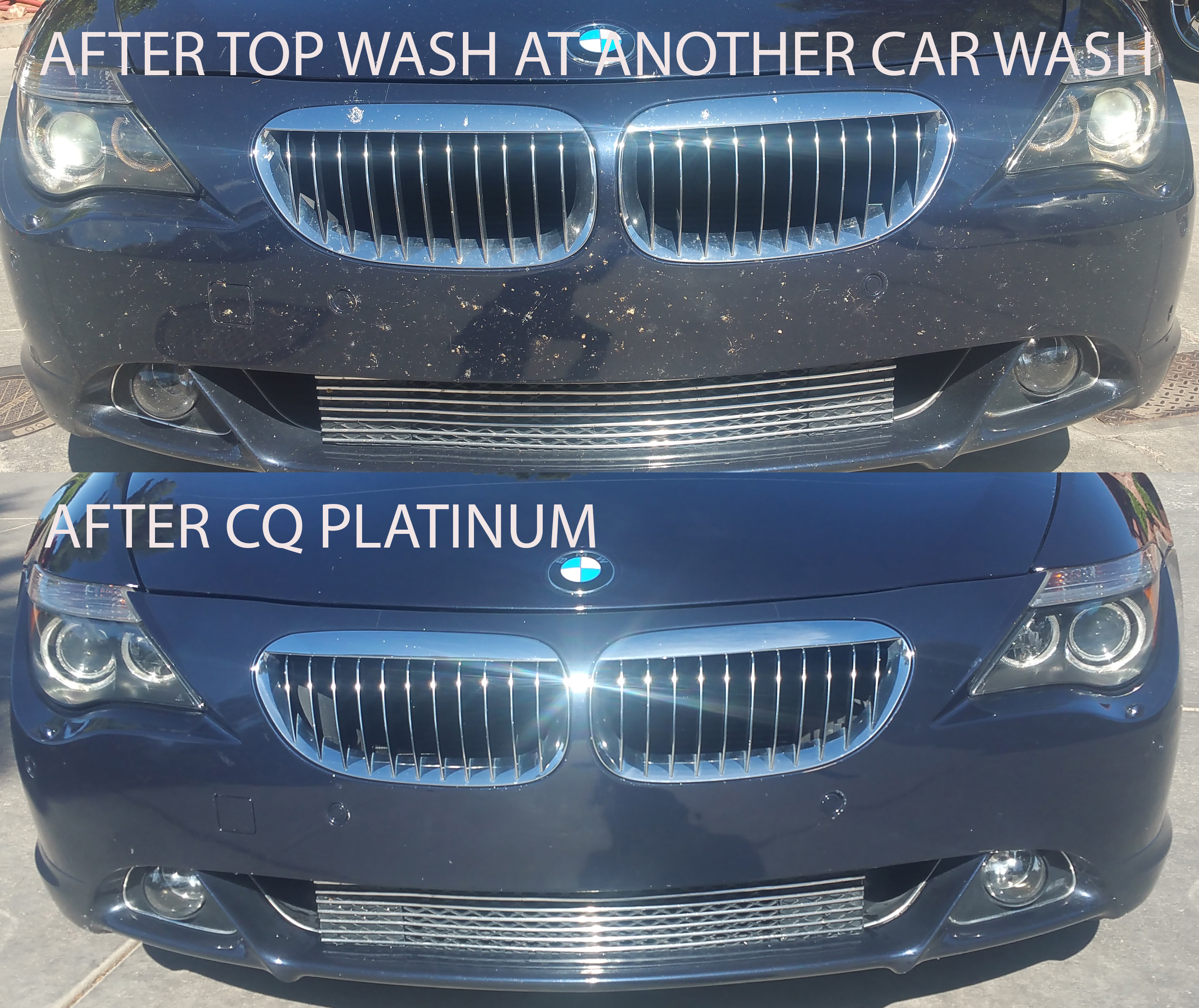 "My car was coated with bugs after a trip, so I had the top wash at another car wash. It came out with all the bugs still on it and the finish still dull. So I went to Cleaner Quicker Car Wash and got their Platinum wash. NO MORE BUGS and my car SHINES LIKE NEW! It's great to have such a terrific car wash here in Sedona!" – Bob W., Sedona, AZ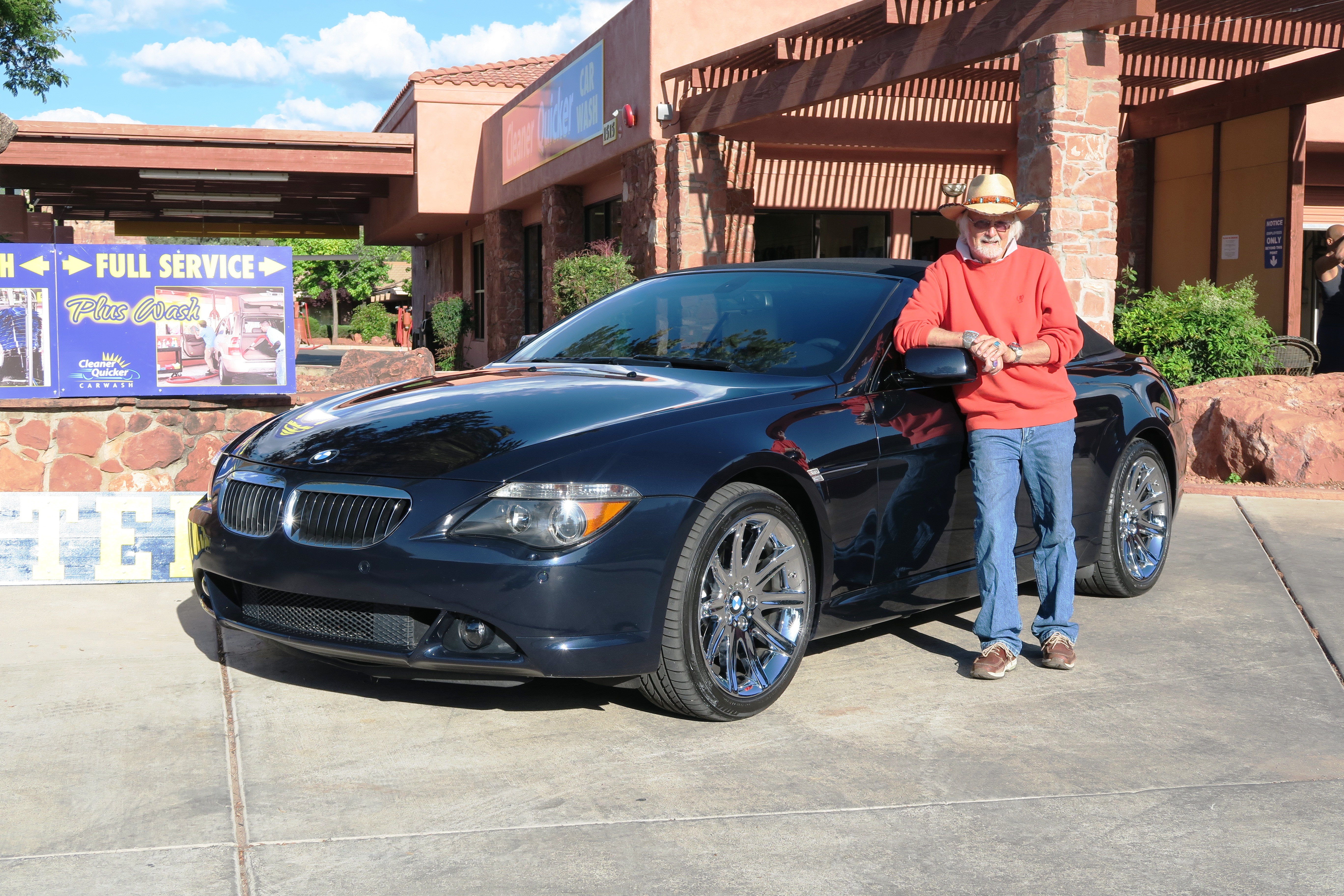 Cleaner Quicker EXPRESS WASH PACKAGES
All our Tunnel Express washes include FREE SELF SERVE VACUUMS for you to use (the same ones we use for our detailing) – powerful, quiet, easy-to-use- plus a 72 HOUR RAIN CHECK- if it rains in the next 3 days bring your vehicle back with your receipt and we'll wash it again for FREE.
We are SAFER – Our neoprene-like brushes don't absorb water and are constantly rinsed clean so they don't hold grit and dirt like the cloth brushes used by most carwashes; won't scratch or mar your finish and scrub off wax like gritty cloth; won't get heavier to increase risks of damage to tops and protrusions.  We also take special care in our hand preps to avoid fine scratches by using prepping brushes made with animal hair rather than synthetic bristles.  This is why many of our regular customers have never used an automated car wash before, but use us because they are confident our tunnel will not mar the finish on their vehicles.
We are CLEANER- Our  three sets of neoprene-like brushes do a sensational cleaning job and we have 19 cleaning and conditioning treatments in our tunnel, more than anyone in the entire region, and are the only ones that offer significant hand prep and all washes have towel touch up.  We have both a top brush and wheel brushes, whereas many washes use sprays even though the Arizona sun bakes grime on the top surfaces and wheels. We top it off with our high pressure arch whose fine-spray nozzles give double the cleaning power of normal arches and get into tiny cracks as well, but use only half the water.
We PROTECT  the beauty and function of your vehicle's finish. Unlike many car washes, we thoroughly treat our water so it won't leave any minerals or contaminants that build up over time to create a fine, friction-producing layer on your car's finish that dulls the shine, holds on to dirt, and doesn't give a lasting bond to wax. Your car looks older, gets dirtier quicker, and wax sluffs off sooner. To avoid this dilemma, we first soften our water to remove all minerals, then double charcoal filter it, and finally purify it even further by reverse osmosis to 000 particles per million purity. And the clearcoat, RainX, and Carnauba wax we use are the best products in their class. The patented RainX we use is good up to 570 degrees, so it can withstand sitting in the blistering Arizona sun all day.  The Armor All Carnauba wax we use is carnauba rich (there are no labelling standards in the car wash industry so not all brands are the same) so that it not only gives an extreme shine but also helps slough off dirt to keep your vehicle clean longer as well as protect its finish.
We are QUICKER – our tunnel only takes 2 1/2 minutes for all washes; our express lane has a self-serve touch screen terminal so you can be in and out in as little as 5 minutes. Or you can do a fast touch up to the interior with the powerful vacuums we make available with all our washes for free.
We keep it SIMPLE – We offer 3 washes – Silver, Gold and Platinum Washes, with from 7 to 16 treatments.
We provide VALUE- On any apples and apples comparison our washes offer more for the money. Our basic Silver wash has 7 treatments including the undercarriage. Our Gold has 14 treatments including wheel brushes in the tunnel and hand prep of the tough-to-clean back end. Our Platinum is a combination hand and tunnel wash with a complete hand prep of tough-to-clean-areas and substances and 19 total treatments. It is better than a hand wash with the undercarriage wash and high pressure arch, plus has clearcoat, RainX and Carnauba  wax- at less than half the price of a hand wash alone.
Express Interior Detail Options
At Cleaner Quicker we do real Details on an express drive-in basis, the more superficial touch-ups of "Full Service" operators, who usually schedule such details in advance. We do them faster than most comparable details because we treat them like a manufacturing process in a factory. We dissect an express detail into each of its discrete tasks, then define the order they must be done in for maximum efficiency, and then develop time standards for tasks, and then test them for reasonableness. New employees are trained first with a training package that breaks out each detail, it's steps and time standards, and then train side by side with an experienced employee to coach them. The first priority is quality- doing the entire detail completely every time. Then they learn to do it faster without sacrificing quality. They use small kitchen timers- first set to 60% of the time standard for the detail to give them a warning of how they are doing. Later they monitor their own times with the timers, relying on the "Hawthorne Effect" (when you time an activity regularly you tend to get faster automatically) and it works. As a result, we do our cleaning details in way shorter time for comparable work in typical detail shops, which is why we can do them on a drive-in basis.