They did a great job in record time. My Platinum Wash and Silver Detail was out in 15 minutes!
— Dr Barbara C., Sedona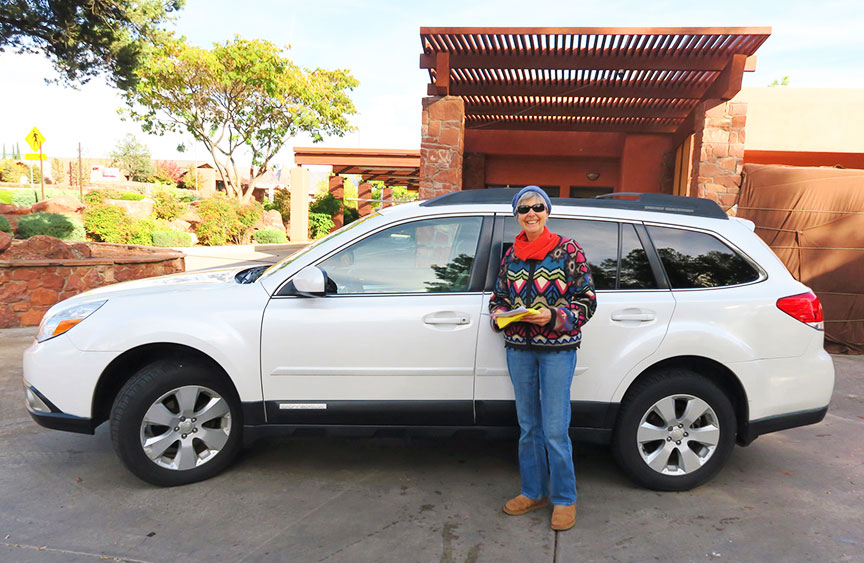 After having the cloth seats shampooed, the car vacuumed, and the windows washed, I feel like I'm in a brand new car! Thank you. ATTENTION TO DETAIL IS ASTOUNDING!
— Stephanie S, Sedona, AZ
It was a mess when I bought it in. It looks sensational now. I got double what I expected in half the time and it only cost $25.
— Dylon B. Sedona, AZ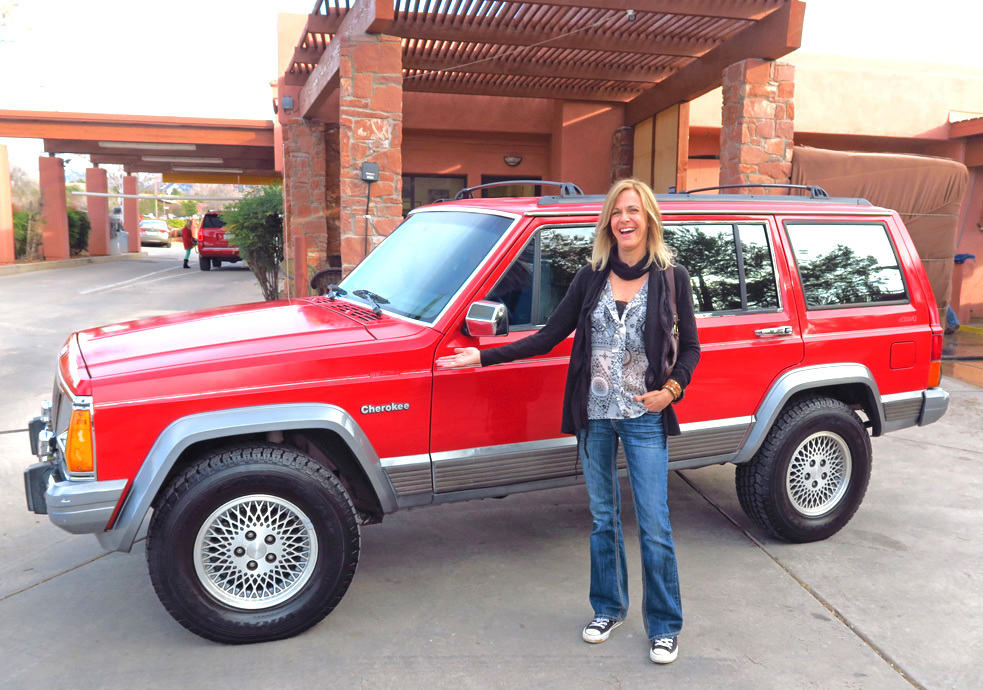 Based on what a fabulous job these guys did on my original wash, I decided to take my 94 jeep in for a full detail. Before this I was going to have it painted because the hood and top had so much sun damage. When I went to pick my jeep up I could see it shinning from the street! It now looks more like a classic/vintage car rather than an old beater. It no longer needs a paint job and it STILL shines over two months of rain and mud and sitting in the sun all day. They also detailed the inside and got that "old car" smell out. I know one thing, if I ever go to sell any of my cars, I will always take it here first, because I think this added more value to my car.
— Sheri C, Sedona AZ
I just moved to Sedona from Santa Monica. I've been to hundreds of car wash and detailing spots,but this place is the best one I've ever been to. Bill (an owner) takes his time to get to know you, and walks you through the process of the car wash. Everyone that works there is really friendly and helpful. There is a receptionist in the front that is also really nice along with their dog, Turk. I refuse to take my Panamera anywhere else. I recommend this place to anyone! Especially if you have a high end vehicle.
Jonathon E., Sedona, AZ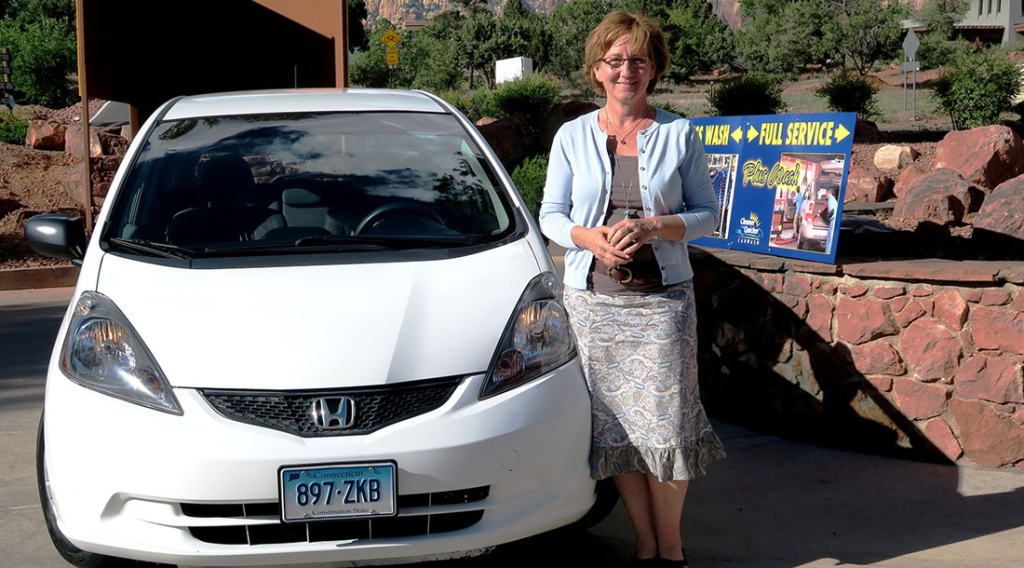 I drove my car cross country for 5 days from Connecticut to get here, and it was filthy, and these guys at Cleaner Quicker have done an amazing job of cleaning it inside and out. The car is actually better than it was when I also detailed it in Connecticut for $75 before coming out here, and the service here only cost me $40. The people are really friendly. The staff is courteous. They really are attentive to detail. The lounge is amazing. It's really comfortable and cool. The views are awesome of the red rocks, and there are 40 varieties of coffees and teas in the lounge to choose from. It's a great place, a lot of fun, and I'm grateful for it. So come here.
— Gillian G, Connecticut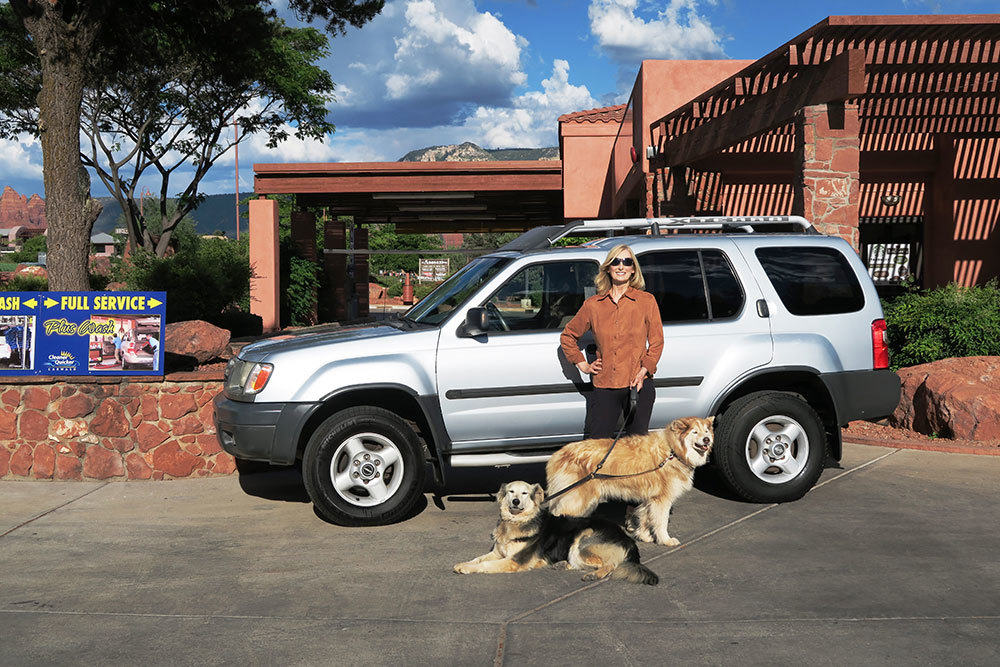 I took my SUV into Cleaner Quicker for the second time the other day. This time it was not only dirty outside but had tons of dog hair and dirt inside from my two large pooches, something I dreaded trying to get out myself. They not only got it all out but the whole interior was pristine as was the exterior. While they worked away, I was comfortable eating free popcorn, drinking coffee, and catching up on emails. So happy we now have a local car wash that can do this kind of work and leave me in comfort while they do it.
— Susanna, Sedona, AZ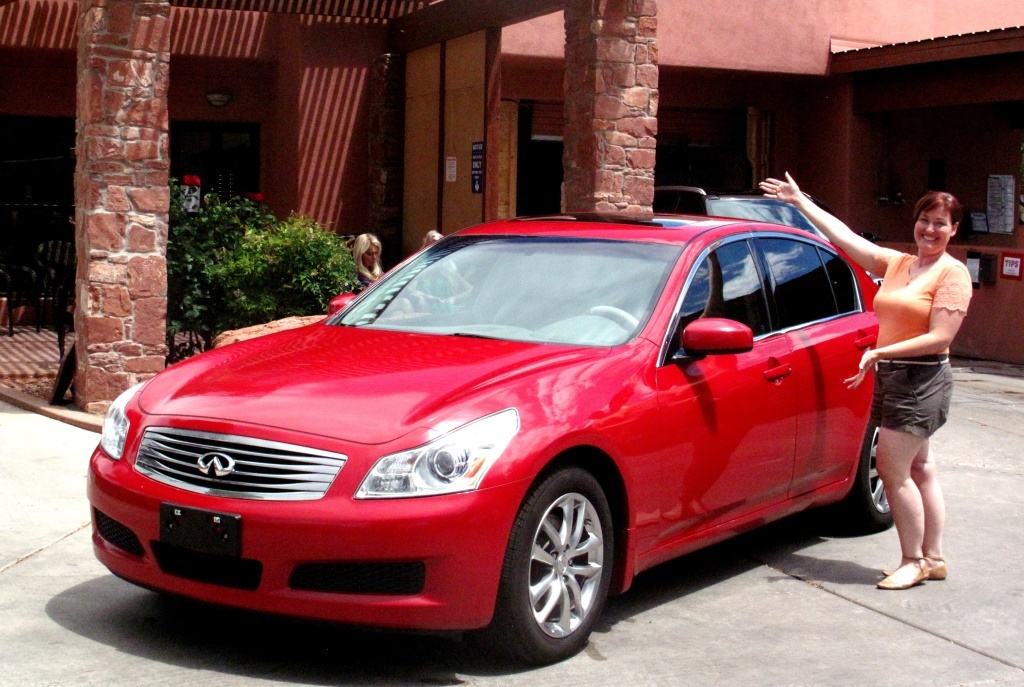 I have used the services of this car wash 4 times now. Twice for my personal car (may I add, I LOVE MY CAR) and twice for fleet cars that I maintain for my job. I took my personal car in not long after they opened – I drive a very red luxury car and I am always nervous to let others clean it because we've all heard horror stories of cleaning mishaps. Bill, at the front of the line assured me that the complete remodel of the car wash included the wash equipment – state of the art and brand new. Not that old fashioned stuff! They did a great job and used a de-bugger on the front end. They did a great job on my personal car so I brought it back and the same result.

I then had two fleet trucks (brand new Nissan Armadas – good sized SUVs) return to my business in really bad shape. The guys had to be out in the mud and it was everywhere! Under carriage, in the carpets, under and on the seats even — Cleaner Quicker got them both cleaned up and got the mud out of the interiors and the undercarriages!. These cars were gross! I really expected them to tell me they wouldn't be able to do it. Then I really expected not to get my trucks back for at least 48 hours… they did it in about 5 hours, for two messed up trucks. Really impressive… my other vendors always take at least 24 hours for this kind of work and need 24 hours of lead time.

I will tell you that the condition of these two vehicles was REALLY BAD – and as a human being, I would NEVER take my personal car anywhere in the condition these two cars were in. As a business manager I did make the decision to pay to have these cleaned properly and locally rather than driving them from my Sedona office to my Flagstaff office or to Phoenix.

I saw other reviews here where the reviewers felt the pricing was high… I run cars for a living and have had to deal with car detailing services and car washes in Flagstaff, Sedona, Cottonwood, Denver, Golden, Colorado Springs and Phoenix… this wash is truly reasonably priced for retail washing… The one wash of the same type that used to be in Cottonwood was priced higher for the same services… This is NOT Sedona pricing. These owners have truly considered the value of the service they provide and priced it very reasonably.

I would always recommend this car wash. They are polite, quick (keep in mind it is a FULL SERVICE wash – if you want it all, which is GREAT, be prepared to wait for a minute longer. They wash, vacuum, clean off the bugs, interior if you want it, dry it and make it shiny!), they have coffee and snacks and you can sit inside or outside while you wait and there is usually someone else ahead of you to talk with.
— Maralea N, Flagstaff AZ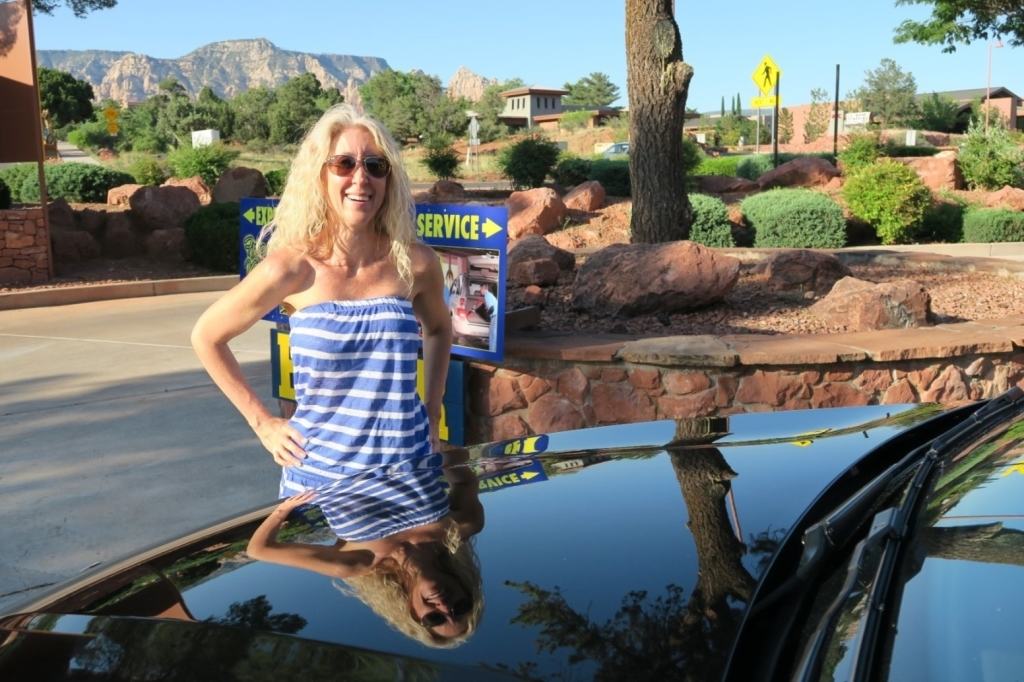 We are on the road between Tucson, Phoenix and Sedona quite a bit, and needless to say our black BMW X5 receives quite a hit from dirt to bugs to brake dust coated rims! So Cleaner Quicker is our place to get our car looking brand new! We usually choose the Platinum wash and Gold or Platinum detail which leaves the car shining. But recently we added the wheel detail, and the clay, buff and hand carnauba wax. WOW! You can use that car as a mirror! It feels like silk, and the car actually repelled any rain or dirt. UNBELIEVABLE! The team there are extremely personable, quick and get a ton accomplished in a short amount of time. One of the employees actually came and got us in order to go through all that was done and to make sure we were happy. I feel that Cleaner Quicker offers a great value for all they do on each service, and the results are terrific! We also enjoy sitting and waiting in their cafe, which offers a large hot and cold drink selection, snacks, all kinds of merchandise, and beautiful art from local artists. And of course we always look forward to seeing Turk, the owners' adorable Golden Retriever! Thank you Cleaner Quicker!
— Nicolle C, Tucson, AZ

Great service! Great new remodel! My car was immaculate and sparkling! And all this from a locally owned and run business! You can't go wrong with Cleaner Quicker!
— Nicolle C, Tucson, AZ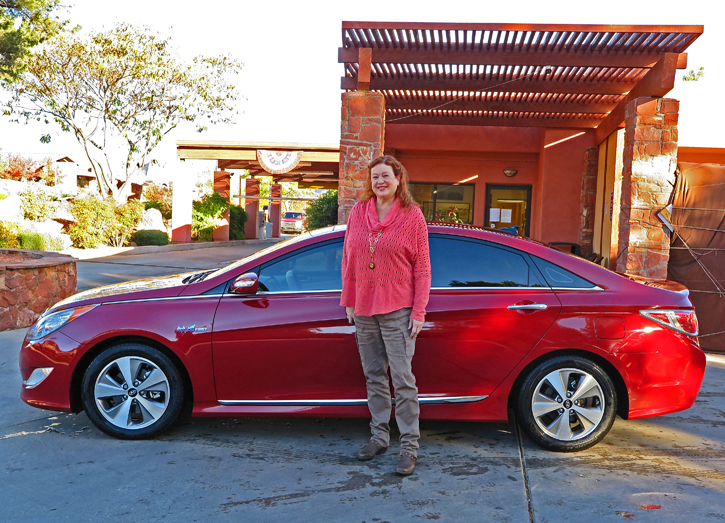 I have been taking my car here every two weeks for the last 5 months. The first time I went there, the owner, Debbie, greeted me with a big smile and made me feel very welcome. She went out of her way to ensure I got what I needed. The price was lower than what I paid in Scottsdale. My wait was less than 15 minutes. That included a wash, inside cleaning, and vacuuming. I was surprised when the guy came in to tell me my car was ready. They did a great job, and have continued to do so.
When they offered Unlimited Car Washes for a monthly fee, I went for it. It has paid for itself over and over. I have a nice car and I like to keep it looking good. Yesterday I went here and they were closed. I walked in to talk with staff and find out when they would be open again. It turns out that they were closed because it had been raining. It had stopped, so the owner opened up the car wash for me and they washed my car. I really appreciated that. Another good job.
Their waiting area is the best I have ever experienced. It is clean, and neat. That includes the restroom. They offer 42 flavors of coffee, hot chocolate and tea. It is free between 9-9:30 am. They also offer free popcorn. I appreciate that they have good magazines available. For tourists, there are vortex books, Sedona souvenirs, and even as a local I have found interesting items for sale there.
The location could not be more convenient for me. I can stop by here on my way to work. Woohoo!
Ivory, Sedona, Az.
I get my cars done here about once a month and can't say enough good things about the service and quality they provide. Just returned from a long road trip and brought the new Honda CRV to Quicker Cleaner, covered with dirt inside and out, including needing a shampoo job on the driver's seat – yikes! In an hour and fifteen my car emerged immaculate and such a joy to drive…clean and perfect as a whistle! Smiling, helpful and cheerful, the staff are always attentive and ready with suggestions, and open to scrutiny of the final product. A few months ago I took my boyfriend's totally trashed hiking vehicle in for probably the first professional cleaning it had ever had. Caked with mud, interior complete with food spills and smudges everywhere, caked on dust inside everywhere, I had no hope for a clean end-product. But I was wrong! The folks at Quicker Cleaner totally surpassed my expectations and I surprised my honey with a clean four-wheel drive to be proud of! Fabulous crew, customer service oriented business, get-the-job-done car wash. I am happy!!
– Claire F, Sedona, Az, from Yelp-
Cleaner Quicker Car Wash is the honored recipient of my very first 5 Star rating!  I visited Sedona for a week and, needing a car wash after a drive from Texas, spotted Cleaner Quicker Car Wash on 89A in Sedona.  I was greeted by Debbie J, who checked my van in and took my order. Debbie made several suggestions for various services that I took advantage of.  The waiting area was well appointed, with a wide selection of flavored gourmet coffees, as well as complementary popcorn and reading material. Then I was privileged to meet Bill J. I learned Debbie & Bill are the proprietors and Bill ensured my van was taken care of by their attentive staff.  

I have an annual vehicle wash contract back home in Texas and the service and care provided me in Texas doesn't hold a candle to Cleaner Quicker's!  I can attest to the fact that my two year old van hasn't looked as clean (inside & out) since the day I drove it off the dealer's lot!

I highly recommend Cleaner Quicker Car Wash!
Bruce T., Texas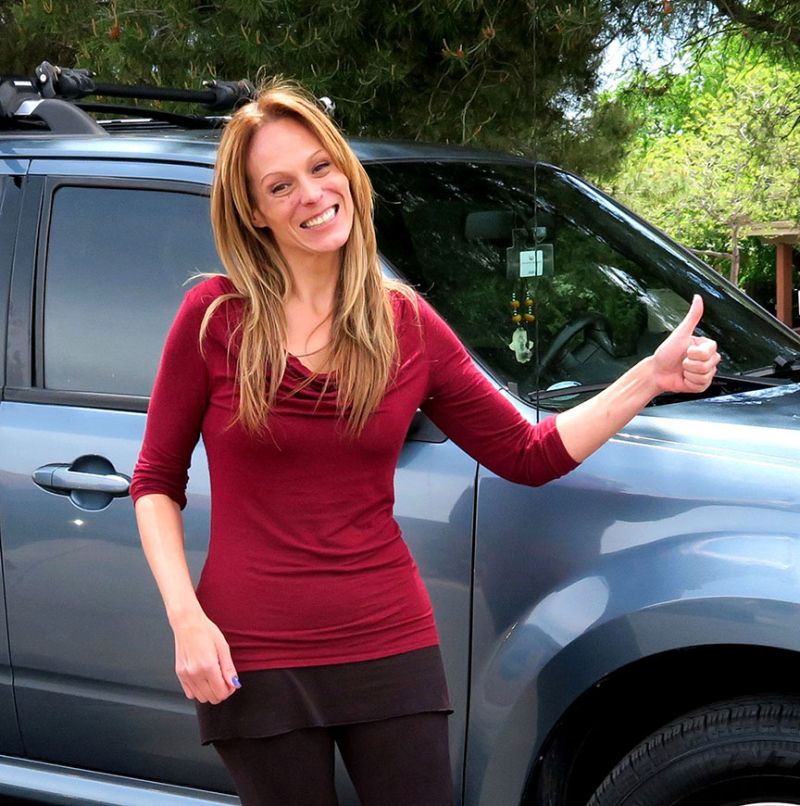 I visited Cleaner Quicker because my SUV was filthy inside and out… I opted for Platinum inside and Platinum outside. Silver inside is about $7, Gold $13 and Platinum $23 for the detail. The outside is from $9 to $17, depending on how much hand prep and how many treatments you want. The differences lie in how deeply the car is cleaned and treated ie: remove bugs by hand, vacuum inside. They charge extra for oversized cars, additional seat rows…as well as extra dirty cars. To be expected, takes longer. They've done wonders with the building. Just ask the owner how much work they had to do to bring the business up to acceptable standards. They replaced the entirety of washing mechanisms with brand new, top of the line systems! Ask how extensively they treat the water used to wash the cars. It's impressive. There's free WiFi, comfy chairs, snacks, ice cream and beverages for sale and free, freshly popped popcorn. (GMO corn, I'm sure, but one step at a time here) There's a great patio to relax on. There are magazines and newspapers as well. I don't mind waiting in a place like this. When I lived in Dallas, TX, I paid a minimum of $70. I got out of there paying $50. I'm instantly happy. I couldn't possibly have done it quicker or gotten it cleaner than they did.
— Julie Z, Sedona AZ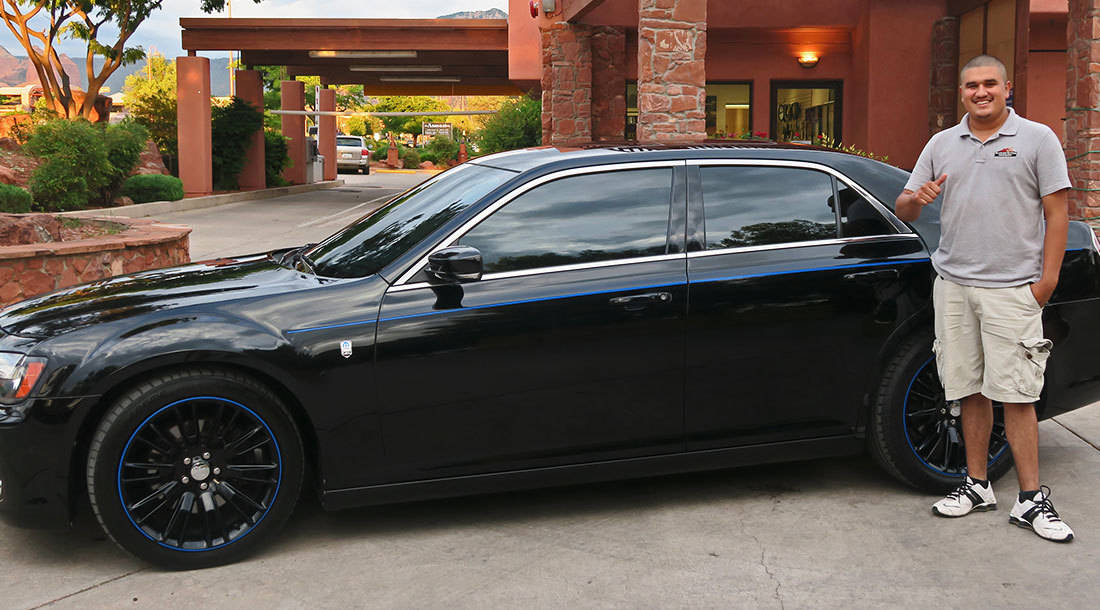 I have a 2012 Chrysler 300 Special Edition, number 69 out of a small number made, and I am super particular with how I take care of it. I am amazed with the job that Cleaner Quicker car wash has done. They did an outstanding job on both the inside and the outside. It looks better now than it did when it came off the showroom floor. I highly recommend them to everyone.
— VICTOR M., SEDONA AZ 9-4-15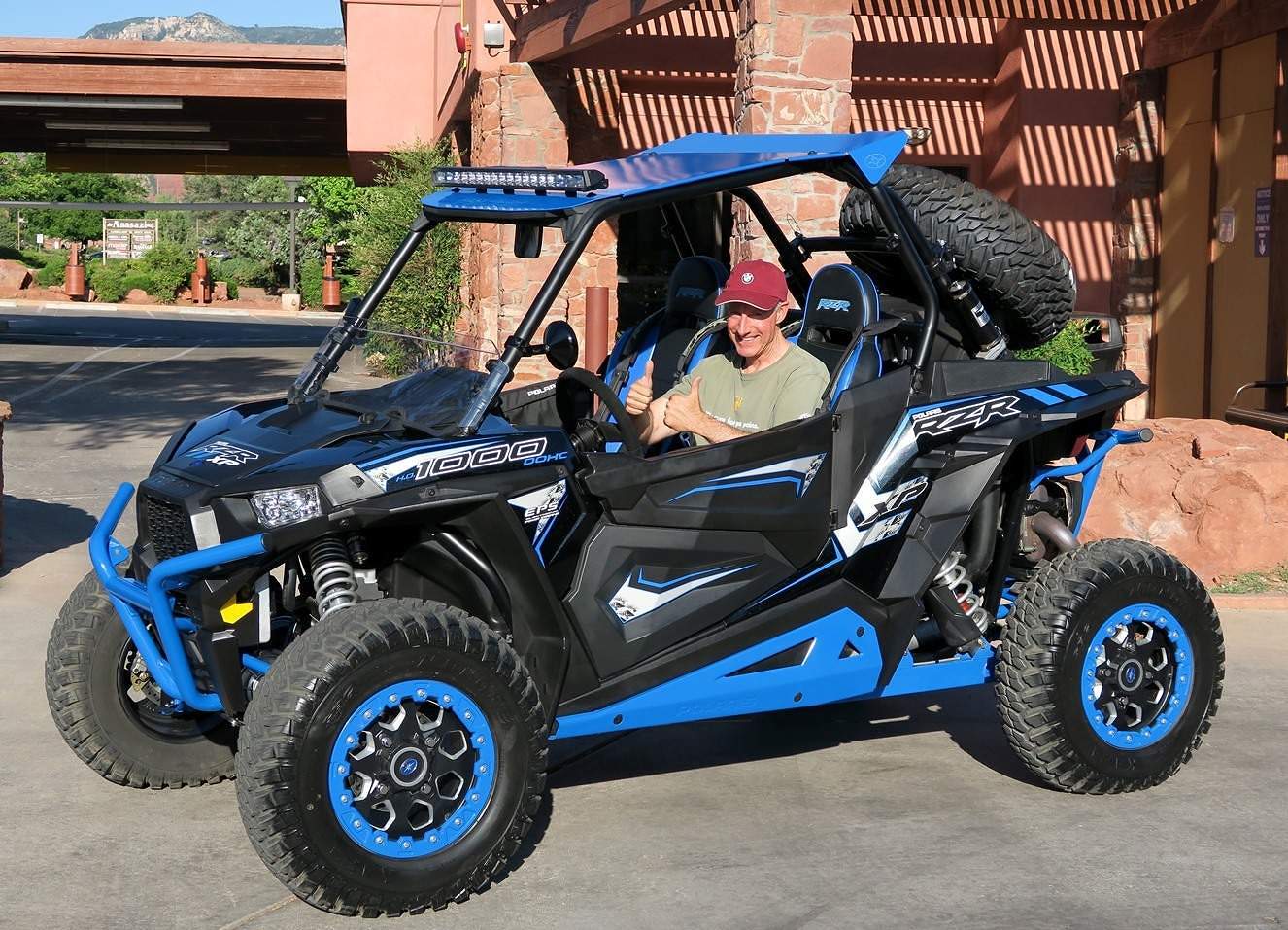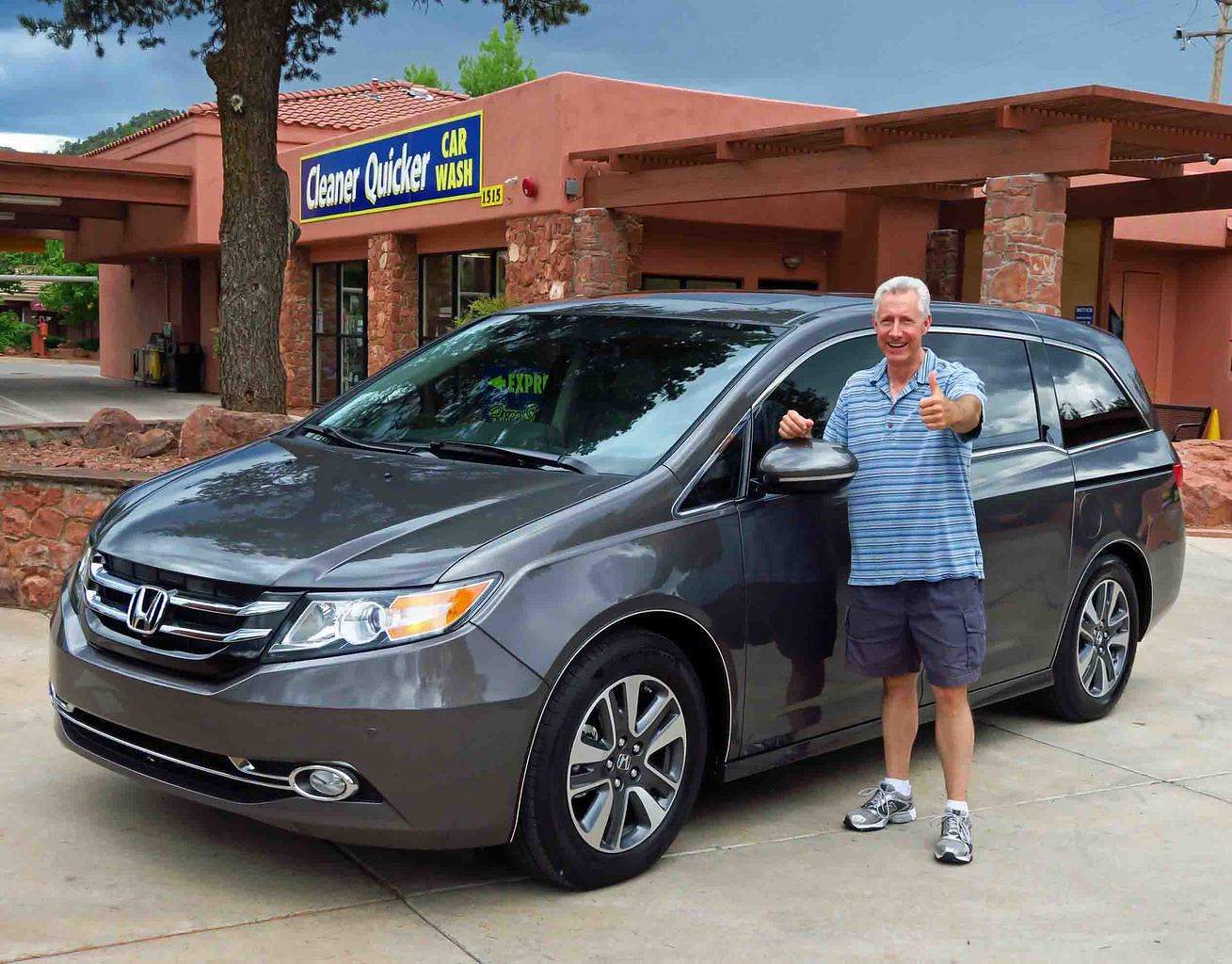 This place is terrific! I'm in the car business so I know the difference. I sell to car dealers so my van must always look at least as good as the new cars in their showroom. Cleaner Quicker Car Wash makes that a piece of cake. The unique Platinum combo hand and tunnel wash leaves it squeaky clean, and the clear coat, RainX, and Carnauba wax give it a beautiful sheen. Even rain and dirt were blowing off so I turned off the wipers on I17 and watched tiny beads of water streaming up and over the windshield leaving my vision clear. Very cool. I like the neoprene brushes because they clean well but are easy on the finish and wax since they don't soak up the dirty water and scratch, and don't get heavy and pound. They also do an outstanding job cleaning the inside of the van. I'm also an ATV'er, and I'm their worst nightmare after a really fun day on the trail- I want it to look as good again as it did in the showroom. Somehow they do it every time.

I like the Flex-serve idea because I can pick what I need for the outside and inside separately. I get what I need and don't pay for what I don't need.
They have gotten steadily faster since I started coming here shortly after they opened. My last Silver vacuum-windows-dash was under 30 minutes for the large van and it was dirty, and a sedan probably would have been under 20.

The greeter now has a video monitor with a bunch of cameras that show what's going on in all the work bays to help estimate how long your service might take. That's still tough because the pictures themselves don't identify the detail or how long it's been worked on. They are working with their point of sale vendor on a system that will track each car through the entire process in real time to help them improve toimes as well as estimates for customers. Good idea- I like to know what to expect and whether to come back later if I need a lot done.

Yet any full service operation can get slammed if a crowd comes in at once or if folks ahead of me want extra detail work done, so I try to come in early or late when it's not too busy. But waiting is no hardship. I love the café. Would you believe they have a commercial Keurig machine that lets them offer more than 40 kinds of coffee, tea, and hot chocolate- the most I've ever seen anywhere! It's always hot and fresh. Before 9 it's free, so come in early if you like your morning brew. There are lots of other drinks, bakery stuff, ice cream, snacks and free popcorn so I'm happy sipping, munching, and using the WiFi. It's like hanging out in a Starbucks. I'm almost disappointed when someone comes to get me and accompany me to my car to check it out. Once I actually asked the kid to just leave me the keys so I could finish my emails and coffee- which he did with a big smile.

That's the other thing. They smile. They're friendly and helpful. They're really seem interested in your having a great day. In spite of all that, however, the best part for me is getting my dog "fix" with Turk, their white golden retriever. Every time I come in I'm his new best friend and he makes my day right then. Love it!
— Chris C. Sedona, AZ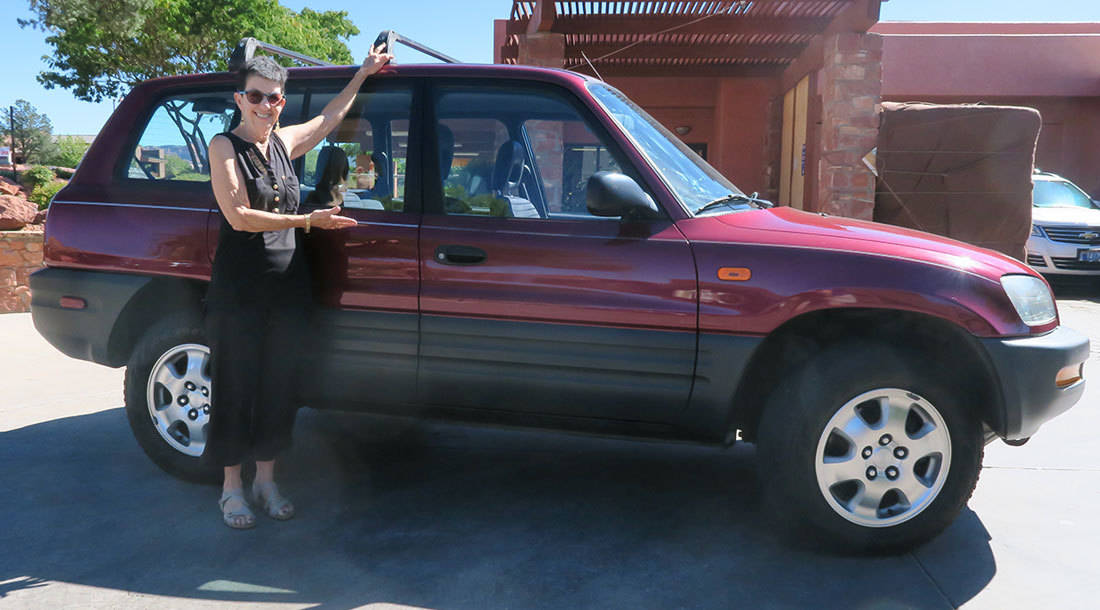 I am so happy with the detail and paint restoration work that you did on my car. In fact, when one of my friends saw it she asked if I had had a new paint job! Thanks so much for great work and saving me so much money in having to repaint the entire car.
— Linda C., Sedona, October 1, 2015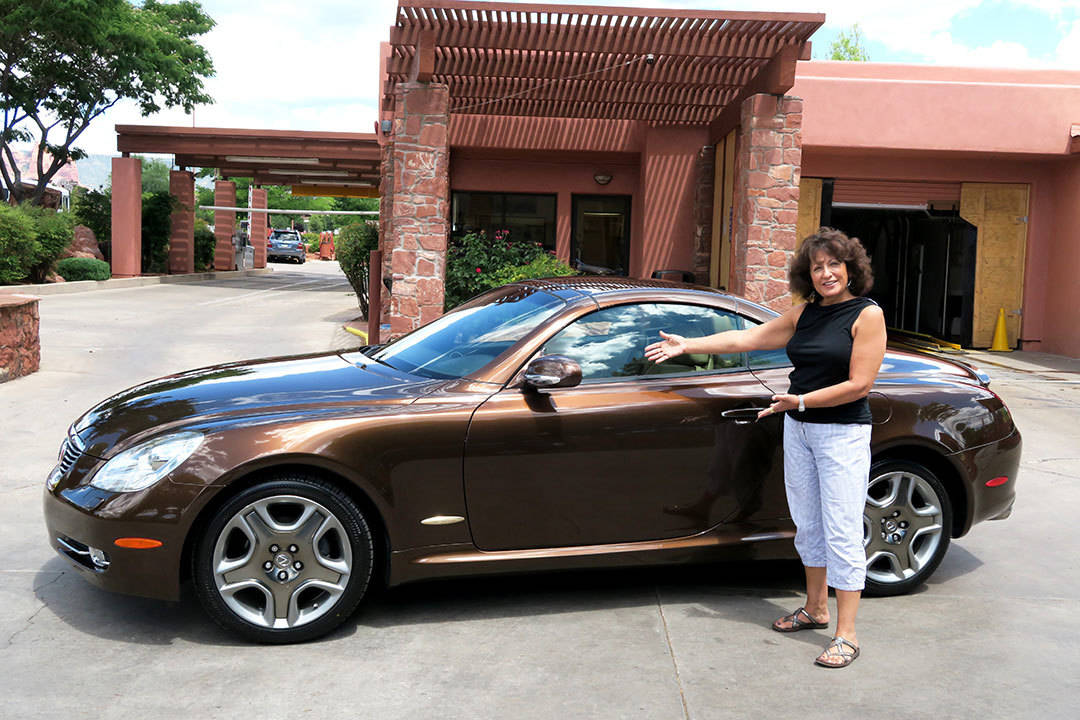 I would like to extend a "BIG" thank you to all employees and Cleaner Care Car Wash for the fantastic job detailing my Lexus SC430.
It looks new again, and the satiny finish with the clay wax feels and looks beautiful.
I would highly recommend and send you referrals!
Thanks again,
— Barbara C. Sedona, AZ

Note from Cleaner Quicker – This car is also featured under the Results section on the home page for "Ghosting".
Best my car has every looked! My Land Rover had a classic case of Arizona pin stripes, and Cleaner Quicker Car Wash got all of them out. I barely recognize my car. Amazing service and as always, I left satisfied and happy.
Emma B., Sedona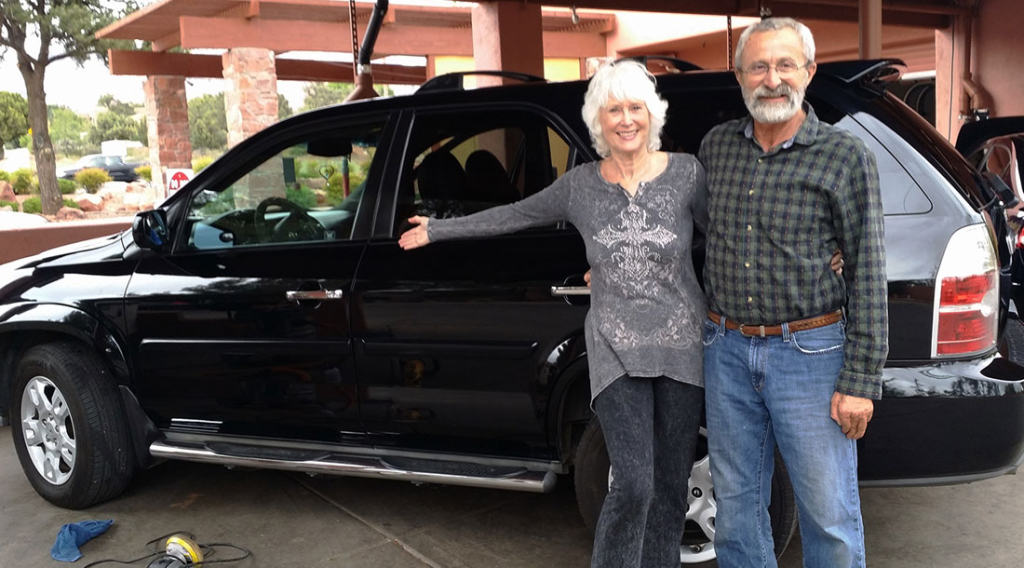 To Bill and the guys that worked on the black Acura, I want to convey my appreciation for an outstanding job and your efforts in detailing my car. In my opinion it was over the top. Thanks a million for such perfection!
— Donna D, Sedona AZ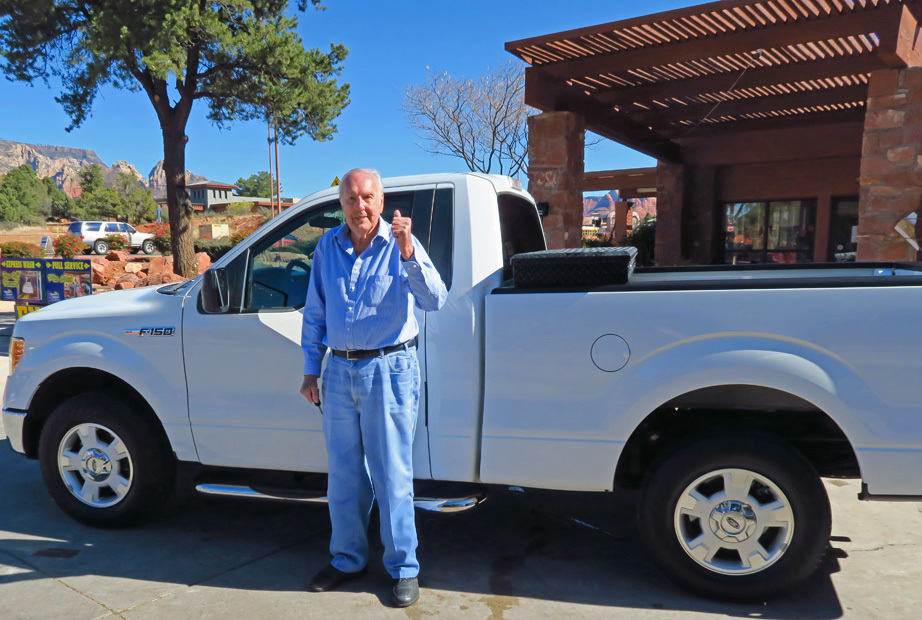 It doesn't get any better than this! My truck looks so sharp my friends will think I stole it.
— James O., Cottonwood, DOB July 2, 1916!!!!
You brought the cherry red shine back to "Buffy" (our "kick-A–" cheerleader convertible. I am looking forward to seeing that proud gleam in my mother's eye again. Thanks for helping me baby my mom's baby!
Amber S, Sedona, AZ
I bring my vehicles in and it's great every time. This is awesome. You guys are great!
Ian H, Sedona, AZ
I decided to sell our old Miata, which was pretty rough looking, the finish faded, and the soft top stained. So I had Cleaner Quicker renovate it before advertising it. I was amazed how good it looked when they finished. Before I had a chance to advertise it, I ran into a friend at the grocery store and mentioned that I had decided to sell it. She asked to see it, and upon seeing it immediately said "I want it" before even knowing the asking price, which she paid. They made the car look so new again that it just sold itself.
Sue L, Sedona, AZ