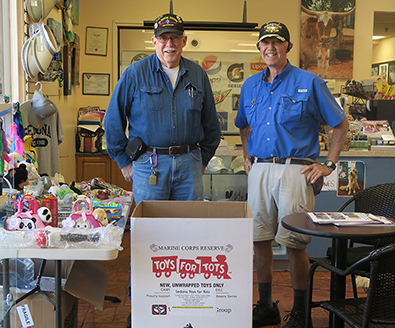 2017 was the 4th year Cleaner Quicker Car Wash and Detailing participated in Toys for Tots drive. The challenge for the program is that while many people want to give, they don't have toys when the come in and see the Toys for Tots collection box, and while they mean well they don't always return with a toy.
So this year we opened our own toy store in our cafe. Debbie bought a huge stock of toys, games, puzzles, including many educational ones, and we offered them at all prices as low as 50 cents up to the high 20 dollars.
We'd ask customers if they'd like to make a little kid's Christmas better and almost all said "Yes". Our wonderful customers helped even more than that. They gave us great suggestions for what items to restock with since we had to restock several times. We got great results and filled 4 boxes before we were shut off at the end of the drive. Next year here we come!