CLEANER QUICKER CAR WASH'S SPECIAL TO GIVE 10% OF REVENUES TO WOUNDED WARRIOR PROJECT EXTENDED THROUGH SATURDAY, NOVEMBER 14. PURCHASES NOW MAY BE USED AT A LATER DATE, INCLUDING GIFT CARDS. COME AND HELP THOSE WHO PROTECT OUR FREEDOMS. Usual 10% discounts for veterans, active military and first responders will also be given.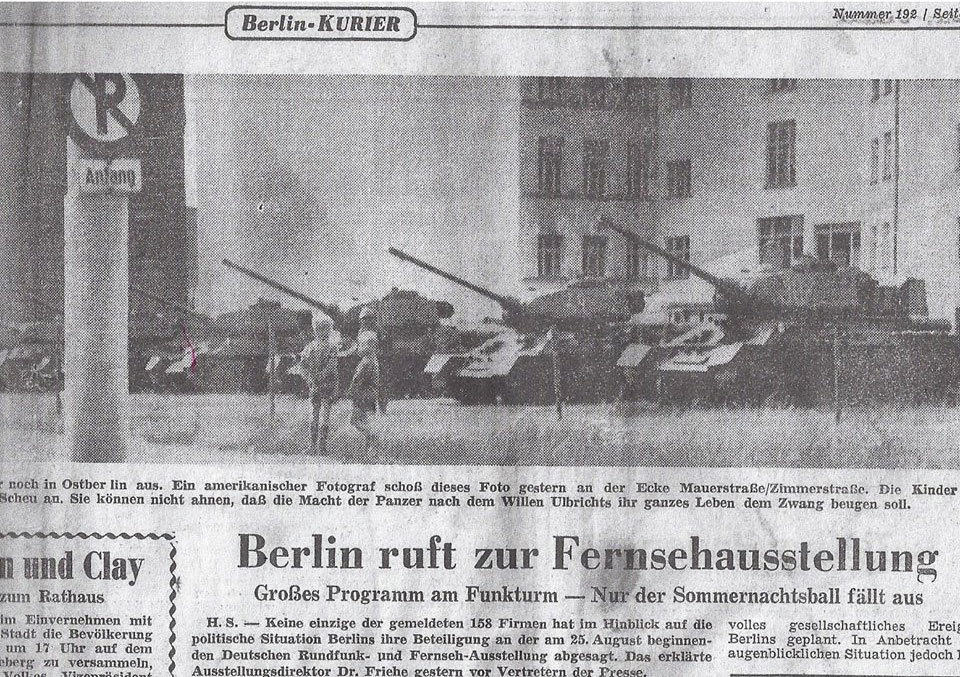 The photo in the West German paper below was taken on August 18, 1961 in East Berlin by an American who had been released from jail in East Berlin a few days before, in fact, just hours before the early morning closing of free access between West and East Berlin on August 13, 1961. He re-entered East Berlin several days later to take this photo. Many East German citizens were upset about the closure. Many even had family members in West Berlin. The buzz began all around the city. The instant response by the government was to bring in numerous T-34 tanks like these and park them around the city with their guns menacingly directed toward nearby buildings like these residential apartment buildings. The message quickly got across and that was the end of any dissidence or semblance of free speech. If you were arrested, there were no habeas corpus rights, no phone call, and in all likelihood no one even knew where you were.
This is why we are so blessed to have the freedoms we do, and should never forget our veterans and active military who have served and are serving today to protect them. I've seen the difference between having freedoms and not. I was that photographer.